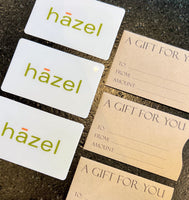 Hazel Gift Cards
Gift cards for in-store visits are available to purchase online! Send a personalized gift card directly to your loved ones or treat yourself to an in-store shopping spree.
Get a Gift Card!
Subscribe to our Newsletter
Did you know we have a monthly newsletter? Be the first to know what is happening around Hazel every month! 
Learn more about our newsletter